Carpet and Pets Guide
Are you concerned about your pets decreasing the longevity of your fresh new carpet?
Choosing carpet creates a cosy atmosphere in your home with a luxurious underfoot (or paw) feeling which is unmatched by any other flooring material. If you are a carpet lover, being a pet owner does not mean you have to compromise. We have compiled a list of cleaning and care tips to help you get the most out of your carpet when living with pets- helping you to keep it clean and fresh.
Carpet Cleaning Tips
It may sound obvious, but frequently vacuuming your carpet is a crucial step in the cleaning process. Regular vacuuming removes pet hair and any other debris your pet brings in the house. A thorough vacuum leaves your carpet looking neat and feeling soft.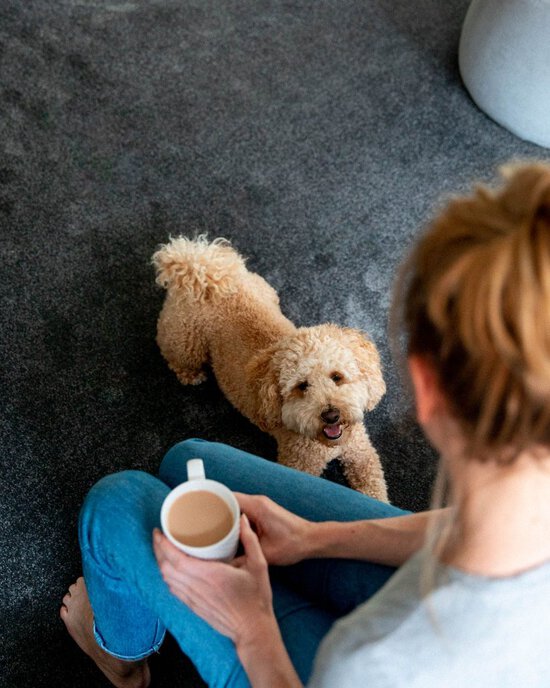 When your pet inevitably brings in some muddy paw prints or has an unexpected accident, it is important to react quickly. Luckily, our Pet Friendly carpet ranges are equipped with Microban or Eco Stain Plus Protection to reduce the damage; however, it is still important to clean up accidents promptly. Begin by scooping or blotting at the accident with a cloth or paper towel and cool water to remove as much as possible, then blot the spill working from the outside to reduce risk of spreading. A quick clean up reduces the risk of staining.
When cleaning up after your furry friends, regular vacuuming and quick spot cleaning is very important for keeping your carpet clean. However, after many pet naps and excitable laps around the coffee table, your carpet may require a deeper clean. We recommend periodic professional cleaning to ensure a long-lasting clean and fresh carpet appearance.
Carpet Care Tips
As a responsible pet owner, we are used to running after our furry friends and looking after their every need. Grooming from head to toe is a time-consuming task that sometimes can be left unkempt. However, ensuring that your pets nails are trimmed is important to avoid them being caught and ultimately, creating snags in your carpet.
We know that keeping your pets paws clean can be a bit unrealistic at times- we've all done the mad dash after our pet as they bolt into the house uninvited…rarely able to catch them.
Our Pet Friendly carpets are easier to clean and maintain, taking the stress out of these situations.
Pet Friendly Carpet Features
Our Pet Friendly range is comprised of various carpet brands which have been identified as more durable or specially treated. Every Pet Friendly carpet has been created using either solution dyed nylon or Triexta fibre, both known for their superior anti-stain qualities. These carpets also have a yarn memory, making cut pile fibres hold their twist longer, ensuring the longevity of the carpet's appearance.
Our range of Eco Plus carpets are made to perform in heavy duty family homes and come with guaranteed stain protection that does not wear or wash off after cleaning. With Eco Plus Stain Protection, spills and accidents can be resolved quickly and easily with cold water- a lifesaver when house training your pup.
Soul Elements carpets are equipped with Microban, an environmentally friendly treatment to reduce household odours, including pets. Microban chemically absorbs and decomposes gasses, leaving your carpet fresh. This treatment is self-renewing, lasting the lifetime of your carpet.
These qualities do not impact the comfort of the carpet, they simply make them more durable than the average house carpets- perfect for indoor pets.
Visit your nearest store to learn more about the Pet Friendly carpet options available.
From the Pet Friendly Carpet Range
Belleza focuses on that underfoot feeling to deliver ultimate comfort. Each carpet has been carefully designed to maximise comfort and ensure easy maintenance. Available in a range of colours to compliment your home.
The Sanctuary Falls collection by Soul Elements are hard wearing carpets that are easy to maintain. The Sanctuary Falls range uses Microban® protection, keeping your carpet clean and fresh- perfect for creating a pet-friendly home.