What is Hybrid Flooring? Everything you need to know
Hybrid flooring is one of the flooring world's hottest timber-look products. Merging some of the greatest technologies to date, hybrid is an increasingly popular option for all homes. Here's our overview of the product, where it can be used and how it could be the best option for your project.
What exactly is hybrid flooring?
Hybrid brings the best elements of laminate flooring and vinyl flooring together, making one of the most practical, beautiful and easy to live with styles of timber-look floorings. It means that it's 100% waterproof which opens up the possibility of running the one flooring style throughout the home for a seamless and contemporary look.
The benefits of hybrid flooring
Installing hybrid flooring into your home or project won't be a decision you will regret. It's extremely durable so a great option for busy homes, homes with children, pets or a rental property. It's also easy to care for which is a positive regardless of who lives in your home! As already mentioned, hybrid flooring is waterproof, meaning it can be installed in wet areas such as laundries, bathrooms and kitchens without any fear of the damage water may cause (of course, prompt cleaning of spills is still recommended). This beautiful and cost-effective product suits the Australian home, particularly those with open-plan living spaces and a fresh, contemporary feel (although we feel it works in so many more home styles!). Having the same flooring from the front door to back looks and feels clean, modern and on-trend.
Coastal Haven in 'Point Leo Charcoal'
Where hybrid flooring works
Hybrid timber flooring can be installed in all areas of the home. If you're replacing existing flooring, hard or soft, chat to your closest Flooring Xtra store for expert advice. Each store has a professional installation team equipped to ensure a stress-free flooring installation. You can learn more about flooring installation here.
Hinterland 'Rustic Oak Natural'
Hybrid flooring colours and style
The timber-look styles and colours available are beautiful and there's sure to be an option for all types of homes, whether it be a coastal cottage, a period renovation, apartment or modern new construction. The hybrid colours range from pale and soft through to warm, bold, dark and everything in between. The characteristics of authentic timber are also replicated, with knots and grains expertly mimicked.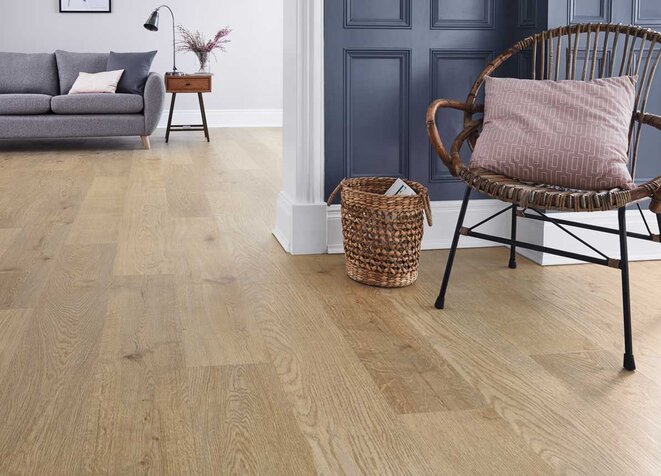 Looking after hybrid timber floors
While hybrid flooring is an easy-care option and extremely resilient, it also requires care as all flooring does. For an in-depth care guide for your new hybrid flooring, read more here.
Merseyside in 'Classic Whiston Blackbutt'
Get Social with us!
Facebook: Flooring Xtra Australia
Instagram: @flooringxtra_au