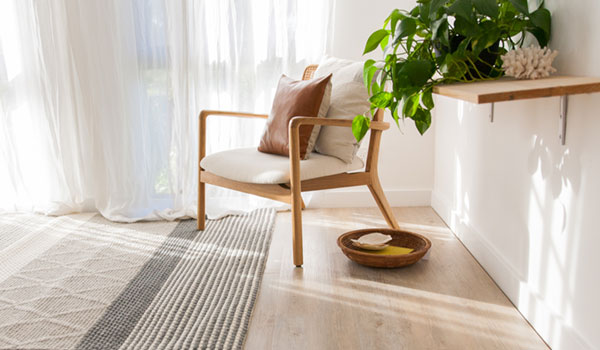 5 Reasons Why You Will Love Hybrid Flooring
If you have been researching new flooring for your home lately you may have come across the relatively new product called "Hybrid Flooring". There are already so many excellent products to choose from in the hard flooring category so you may be wondering what the exact benefits could be for this style. Well, there are several and here are our top 5 reasons why choosing Hybrid Flooring for your next new home or renovation will be a decision you won't regret!
Hybrid Flooring uses new technology to combine the best of laminate and vinyl flooring allowing it to be 100% waterproof. Think of all of the positives this can bring to your home. A timber-look flooring is now available in wet areas so you can have the same flooring finish throughout your home and you don't have to stress when everyday accidents happen. Kids, pets and general living mean water and liquids often end up on the floor. This is not something you have to worry about anymore!
Because of Hybrid Flooring's waterproof nature, the ability to achieve a consistent and clean look throughout the whole interior is possible. In today's homes, open plan living is increasingly becoming popular. This seamless look of one flooring throughout the whole home creates a harmonious feel.
If you have a busy family home, you will be keen to hear that Hybrid Flooring is very durable. You will not have to tiptoe around the home, worrying about causing damage and this durability will last for years to come. Some flooring requires tremendous effort and upkeep to maintain, which is not always realistic with a fast-paced family home environment. In fact, Aqualife Hybrid Flooring has a lifetime residential warranty, so you can feel safe knowing that its quality is one that we believe in too!
Hybrid Flooring is a breeze to keep clean and maintain. While other flooring can need special equipment or products to clean it, Hybrid Flooring only requires minimal energy and time. Like any other hard flooring, keeping dirt at bay through regular vacuuming or sweeping is ideal. For Hybrid Flooring, this method is also adopted- but there's no need to use additional wax or polishes, with a damp mop all that's necessary. 
So we know that it is waterproof, easy to clean, superior quality and has a lifetime warranty, but very importantly, it also looks beautiful. There are so many beautiful timber-look Hybrid Flooring tones to choose from that this may be your biggest problem – which one to select?
You can see our extensive range of Hybrid Flooring here or pop into your closest showroom to find out more. Find your nearest store here.
Featured Flooring: AquaSmart in 'Washed Oak' & AquaLife in 'Sandy Gum'
Follow us for more Flooring and Rug tips and to be the first on special promotions and offers
Facebook
Twitter
Instagram