Minimising Allergies in Your Home
As the temperature heats us, the spring breeze starts blowing all sorts of lovely blossoms and pollen about the air. Well, lovely for some, but a real burden for those who suffer allergies, however. Allergies are not only for those outdoors either, as many battles the dust that we find inside even the most well-cleaned homes.
Dust can be a real issue for those who suffer allergies, as it becomes airborne in the home it can cause asthma and hay fever symptoms, itchiness and irritability of the eyes and throat. While these allergies are difficult to eradicate, there are surface and material selections for your home which can minimise these issues. Consider the following when deciding on your new flooring and soft furnishings at home.
Flooring
For an allergy sufferer looking at buying carpet, consider SDN (Solution Dyed Nylon) or BCF (Bulked Continuous Filament) carpets as these fibres minimise shedding. Also, look at low pile carpets for ease of vacuuming.
Carpets are particularly popular for dust mites to live in! They can burrow away, without us knowing and once their faecal droppings become airborne, it can cause discomfort to those who are allergic. If you choose to have carpet, vacuum it often, ensuring the whole floor is well cleaned including under furniture and hard to reach places, because that's where the little pests hide!
Rugs are a little more flexible as you can move them with not too much effort outdoor to be thoroughly aired and shaken out.
Hard flooring such as timbers, tiles and vinyl are easier to manage, where there is no hiding dust. When the sunlight hits the floor, even the most dedicated home-maker will see where they may have missed!

Window Treatments
Window treatments are another area of the home which can easily become a haven for dust. Generally speaking, any type of blind or curtain that is not easily cleaned are more problematic for those suffering allergies. Traditional blinds made from fabrics, particularly those with complicated swags, headers and folds catch and house dust readily, while straight Holland blinds and Venetians and shutters which can be wiped down are easier to manage. If you are sold on drapes, consider simpler details, such as loop or minimal pinch pleat headers to try and minimise the dust concerns. Also, think of the types of fabrics you do select. Heavier fabrics, such as velvets and damasks capture dust more so than sheers and linens.
Your nearest Flooring Xtra store will be able to provide guidance on which concept would best suit your home or business.
Furniture
Similar to curtains, the fabric is often the culprit here. While fabrics provide a luxurious and comfortable element to the furniture we sit on, it also captures dust more so than leather for example. If allergies are an issue in the home try leather for sofas and chairs, they can always be accessorised and softened with fabric cushions and throws which are more easily cleaned. Another option if you are not sold on leather is to have sofas with removable slipcovers which makes cleaning a lot easier. Moulded plastic and timber chairs also make for fashionable dining chairs without dust issues.
There are other elements of home maintenance which also affect the level of allergens and dust mites in the home. Ensure surfaces such as floors, shelves, artwork frames and architraves are dust-free by vacuuming and dusting regularly. Mop hard flooring as well post-vacuuming to eliminate dust completely. Invest in good vacuum technology and make sure to enquire what the best possible product is for you and your situation.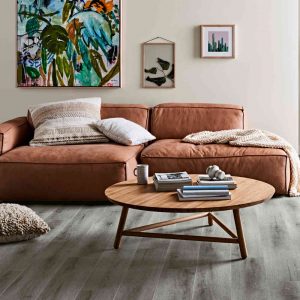 Ventilation is also important. Choose days which are not so breezy to allow fresh air into the home. Natural ventilation through door and windows is so beneficial to the homes energy while breaking through any stale smells. Ensure the air-conditioning and heating filters are kept constantly clean and serviced in your home. This will minimise any additional airborne dust from being filtered back into the room.
Consider your pets in the home. While pets are a welcome inclusion to any home, perhaps they may be better kept in areas where there are more hard surfaces than plush carpets. This way any shedding of the loose hair will be easily maintained and removed.
Hopefully, these few tips will lessen the impacts of allergies in the home and make it a more pleasant haven for those allergy sufferers!
Visit one of our Flooring Xtra stores and we will happily show you your options and offer our advice to ensure you have 'A fabulous flooring experience' and hopefully less sniffling and sneezing.
Get Social with us!
Facebook: Flooring Xtra Australia
Instagram: @flooringxtra_au