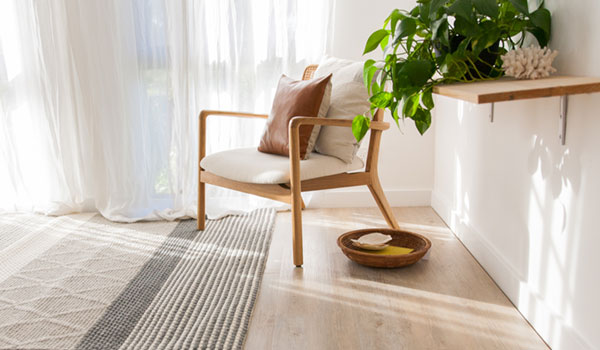 Four rug shapes and how they can change a room
Rugs have to be one of the easiest ways to refresh a room, not to mention one of the most affordable methods! Rugs are not permanent and can be moved around the house to create a new look and feel on a whim. Choosing a rug can be daunting, with shape, size, colour, material and pattern to consider. Our tip- think about how you want the room to feel and then put your detective hat to see what's needed to make this vibe happen. If you want the room to feel warm, add texture. If you want the room to feel more lively, add some colour. If you want the room to feel relaxed, keep it textured and neutral.
The shape of the rug you choose will play a significant role in the overall scheme of the space, and each adds something different. Here's how the four most common rug shapes will impact your room.
Rectangular Rugs
The most common of rug styles, the rectangular rug will tie your room together. In a living space, it will anchor the main items of furniture, so ensure at least the front feet of your sofa (or armchair etc.) are on the rug. Map out the space with a tape measure to be sure the rug will be large enough. It should be bigger than the largest item of furniture (likely, the sofa). In the bedroom, a rectangular rug can be placed at the end of the bed. Again, it looks better if the rug sits slightly under the bed, so it should also be longer than the width of the bed.
Rectangular rugs are available in a wide range of styles which makes selecting fun (or overwhelming!). Try to define your style and this will help. Bohemian rugs, modern rugs, shag rugs or natural rugs. Each have been placed in convenient categories for you on the website.
Round Rugs
Round rugs are a handy addition to lots of spaces in the home. Entryways, unusual or small shaped rooms and under round dining tables are just some of the places a round rug will be right at home. An entry can be the perfect place for a round rug as there's often several doors or passageways off this space. The round shape creates movement and interest while also minimising damage to the floor where there's a lot of foot traffic.
In a small or unusual shaped room, such as a sitting nook, a round rug can bring all of the elements together cohesively. For example, two armchairs and a side table can be brought together with a round rug, each with the feet placed on top of the rug (at least the front two). Round rugs are also fun in play areas which is why you will often see kids rugs in a round shape. It brings a fun, playful element to the design.
Oval Rugs
Oval rugs are becoming more popular and there are lots of beautiful natural rug and jute rugs in this shape in particular. Oval rugs are a talking piece while also being practical. They can work well in spaces where you would typically place a rectangular shape while adding a point of difference. Oval rugs bring a softness, with no angles or sharp corners. They also offer flexibility in how you can arrange your furniture on top of, or around the rug.
Runner Rugs
Runner rugs are not just for hallways, but, they work so well here as an obvious starting place. They are incredibly practical in the way they protect one of the most used areas of the home, often where hard flooring is installed. Runner rugs come in many different designs and materials, frequently highly patterned and sometimes colourful. Runner rugs are also excellent in kitchens, entryways and even in bedrooms. You can read more about where runner rugs work at home in this blog.
Get Social with us!
Facebook: Flooring Xtra Australia
Instagram: @flooringxtra_au